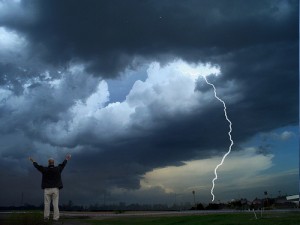 In the early years of being a parent of a child with autism I found myself often frustrated by the messes I would have to clean up, repeatedly. Sometimes my frustration would overwhelm me to the point of tears. My daily prayers would be consumed in requests for healing for my son. I wanted him to get better so that my days were not so difficult.
Then one day I realized, as I was cleaning up behind my teenaged son for the fourth time that day,  that I was no longer angry or frustrated – I was actually singing! Something had changed, not within my son but within me. God had given me the awesome gift  of having peace within the storm. As people look on and wonder, how can I keep this up day after day and still be sane, I know it is because of the Peace of God that passes all understanding keeps my heart and mind through Christ.
While I was absorbed praying for relief, God was teaching me the lesson of peace and giving me the healing I needed.