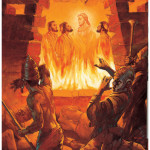 As I recollect one of the greatest sorrows of my life in which I was betrayed by someone I dearly loved and trusted, I can vividly recall a voice in my spirit saying, "Now we'll see what you really believe."
Sessions in Pain pg. 48
You will do what you really believe, and not always what you say you believe. When your "fight or flight" reflex kicks in do you run back into Babylon or do you run to Christ? Your true belief will be tested in the fires of life. If you have failed this test (and we all have), take heart; His  arms remain open to bring you to Real Belief. 
Never leave you!            
Never forsake you!