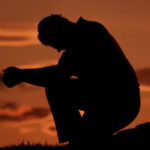 All the days of my hard service will I wait, Till my change comes (Job 14:14b).  
Written above are the words of a righteous man living in physical, emotional, and perhaps spiritual agony. The only comfort he may have had at this time was in his belief that God is faithful and holy. Like Job, we should take comfort in the fact that God is holy and just; because His holiness dictates that He will do what is right concerning our lives.                                                                      Sessions in Pain, pg. 151
AUTHOR'S COMMENTS: Waiting for change is not easy; especially when you are in pain. But when you are waiting before God, know that He sees you. Before God your waiting is not just waiting, but it is also a cultivation of your faith. Faith that He knows will empower you to conquer in His Name. Therefore, wait before Him beloved – wait until you are changed!
You have turned my mourning into joyful dancing. You have taken away my clothes of mourning and clothed me with joy (Psalms 30:11 nlt).