Job had the right attitude when he said, "The Lord gave, and the Lord has taken away; Blessed be the name of the Lord" (Job 1:21b). Through the agony of his losses, Job still acknowledged that God was worthy of praise. His emotions may not have lined up with this acknowledgment; but as a deliberate act of his faith, he blessed the Lord.
This week's "Word of the Week" is dedicated to Dr. Myles and Mrs. Ruth Monroe and their companions on the plane that took off from Earth last Sunday and landed them in Heaven. Dr. Myles Monroe was a great influence to this author as he obeyed his Lord in teaching hard and difficult topics to the Body of Christ. Our prayers go out to their congregation at the Bahamas Faith Ministries – may they honor their memories and Praise their Lord through the Pain.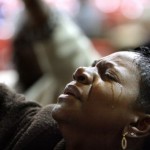 But You, O Lord, are a shield for me, My glory and the One who lifts up my head (Psalm 3:3 NKJV).
See awesome video of Myles Monroe's Family following their loss: http://vimeo.com/111685970