LEAVING BABYLON pgs. 76-77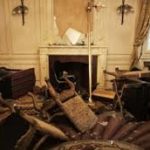 Once you choose God's will, you must learn the new ideals and attitudes of your heavenly Father. This is the reconstruction of your will. This reconstruction happens in the flow of the River of God.
As your mind is being renewed, it must be refurnished with the knowledge of the will of God. We must be reeducated. Imagine your mind is like a room full of old, dusty, broken-down furniture, and that each piece of furniture represents an attitude that you operate in when circumstances arise in your life, your warped will. Anxiety, envy, pride, anger, resentment, and other destructive attitudes decorate the room of your mind. You use this defective furniture although it is dirty and stains your soul and clouds your thought processes. You use it although it makes the situations of your life worse. You use it although it destroys the relationships with the ones you love. You sit on this furniture although the legs break and leave you lopsided in your understanding. Life doesn't make sense or has no purpose or meaning.This old furniture leaves you confused and wandering through life, wondering, "What went wrong?" Our former attitudes are inadequate and will never bring the true knowledge of God and the true understanding of the human condition.
"This means that anyone who belongs to Christ has become a new person. The old life is gone; a new life has begun!"(2 Cor. 5:17 niv)
{ 0 comments }